Why Maison d'Or?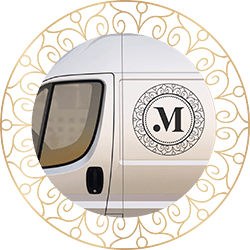 Free delivery
in 2 hours in Bucharest
Flowers must go as they leave us:fresh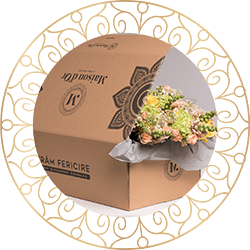 Unforgettable
packaging
Bouquets and arrangements are delivered in boxes or special bags
Gift
card
Because every time we deliver a bouquet,we also deliver you emotions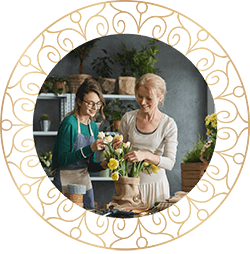 Authentic floral
artisans
No arrangement escapes the wll-prepared eye and the experienced hand of floral artists
About us
The feelings we have to the people around us must be expressed, to create joy in their hearts. Because sometimes words are not enough to convey what we feel, gestures come to reinforce the words we speak. And what gesture may be nobler than giving a bouquet of flowers?
At Maison d'Or we have the art of offering the highest heights, constantly working to find the best ways to bring this gentle refinement. So, we are an online florist where you can always find luxury flowers, fresh or cryogenic, in combinations that conquer hearts.
Our mission is to deliver happiness anywhere, so you can choose to order flowers online and we will begin to prepare bouquets and flower arrangements that bring smiles. Feelings do not take into account geographical limitations, because there is no place between warm souls. Just for this purpose, we thought to be present in the virtual environment to be with you when looking for an online florist in Bucharest.

The clients we have done happily over the years through our floral arrangements have recommended us as a luxury florist where elegance and good taste impress all of our creations.
So, from our catalog you can choose bouquets of flowers, floral arrangements, flowers in boxes and special gifts from the luxury collection or an all-encompassing gift: cryogenic roses. In addition, our designers are at your disposal with arrangements for special events, ideal for celebrating the occasions of your life! Flowers create the perfect frame in any space, so you can order flowers online if you want to enjoy yourself with their fragrance and beauty in your home or even in the office.
In fact, when it comes to flowers, you do not need a reason to buy them, especially because at Maison d'Or we set out to be an online florist that transforms the creation of bouquets and arrangements into a a way to produce happiness!
Did you smile today? Choose Maison d'Or!
Why do we think we are the best choice when you want to place an online flower order? First of all, because we have been doing bouquets and arrangements for different occasions for over two years. Then, because we put our soul in absolutely any kind of arrangement we create so that so far it has never happened to be wrong! Another reason is that we offer diversity, making custom flowers and personalized bouquets according to your preferences. Just because we want to provide you with special flowers and luxury services, we are not the right choice if you are looking for cheap online flowers. Order flowers online from our collections for the usual days you want to give a special charm or order flowers for the special events you will attend and surely you will return to our virtual flower shop and look for gifts that will bring smiles on the lips of the recipients ! Order flowers online Bucharest and the rest of the country, on our site!